If you want to know what is VPN, how VPN works, and how to use it, then today you are at the right place because today I am going to give you complete information about what is VPN in this article.
In today's time internet has become very common, every other person is using the internet today. There are more than 700 million internet users in India alone. And on the Internet, you will find many websites, most of which you can use very easily.
But you will also find many such websites which you cannot open directly, this is because those websites are banned by our government. Or sometimes we are not able to open the website of some other countries also because that country has restricted access to that webpage for our country.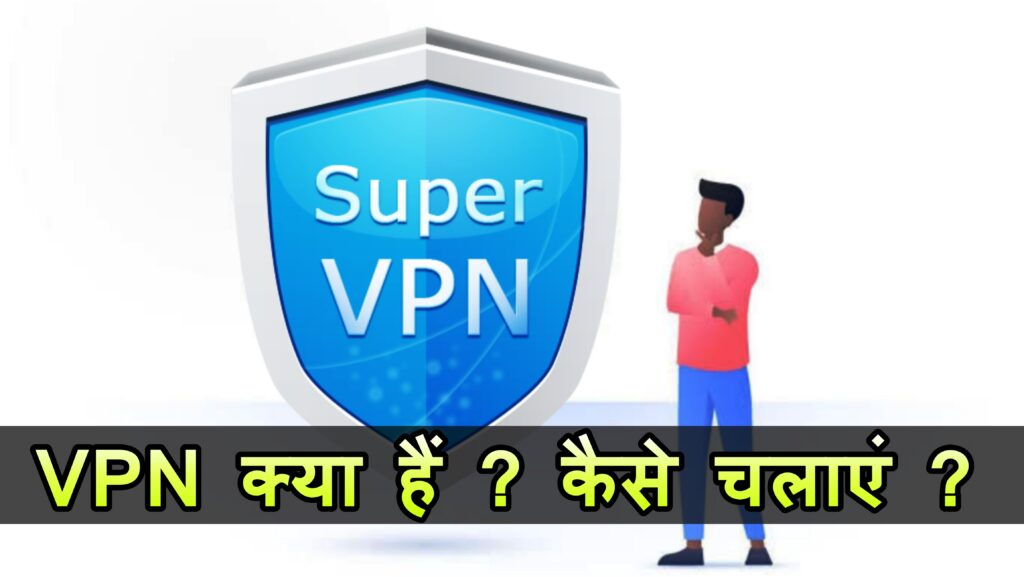 Now the question comes here that how to open such a website, then here I would like to tell you that to open the blocked website, we have to use VPN so that by setting up a VPN of another country, you can easily access the blocked website. . So let's know what is VPN and how to use VPN
What is VPN?
VPN means Virtual Private Network. It is a kind of network that creates a virtual network between the public network and its own network (such as the Internet of Wifi and Sim Card) which is completely private and secure. With this, no person or hacker is able to access the private network created by us. By using VPN, you can protect your data from being hacked.
VPN is used for many reasons, some people use VPN for their security, while some people also use VPN to open banned/restricted websites. And most of the big companies and organizations also use VPNs so that their data is always safe and any kind of information is not leaked. And if you want, you can also use a VPN on your mobile or PC very easily.
You will find a lot of VPNs on the internet, some of which are free and for some, you may have to spend money. By the way, paid VPN is considered to be more secure but if you want to use a VPN for normal uses then you can also use free services.
Who made the VPN ?
The idea of ​​making a VPN was first given by "Gurdeep Singh Pal" in 1996, who worked in Microsoft company. VPN is developed from a kind of Peer to Peer Tunneling Protocol (PPTP) technology.
How VPN works ?
The main job of VPN is to create a network between our computers from a server that no one else can access. That is, what we are reading or watching on the Internet and the server in which that content is stored, to create a private network between that server and our internet connection so that no one else can track us.
If I explain to you by example, then suppose you are buying a kilo of mango from a shopkeeper and taking it to your house and keep that mango in your hand which is kept open and everyone is able to see it, then everyone knows whatever is present there. Now on the other hand, you are taking from the same common shopkeeper keeping it in a black bag which is not visible to any person present there, only the shopkeeper and you only know what is in your bag. So just like this VPN creates such a private network that no one can know whatever goes on between the server and the internet user.
We can see and access the data stored on any server through the Internet, on the other hand, there are some websites that are open only in a local area, those websites can be accessed by the Internet user outside that area. VPN is used to access such websites or some websites which have been banned in the country.
Most VPNs in India are used for downloading movies or streaming Netflix, Ullu, and online and watching movies and web series from the app, where many people from countries like US and UK use Ullu App. Watch online videos without Paid Subscription by installing VPN because its service is free in these countries. Many hackers also use VPN to hide their Internet Protocol Address (IP) so that no one can trace them through the Internet, while some people use VPN to open such websites which are government-owned. Banned by. That is if told overall, VPN is used for many reasons.
By now you must have understood very well what is VPN and how it works, so let us now know how to use VPN on your mobile or computer.
How to use VPN ?
Using VPN is a very easy task, you can use VPN by installing App/Software very easily in your mobile or PC.
How to run vpn in Laptop/Pc
After understanding well what is VPN, now we know how to connect VPN to a computer, I will tell you some steps here, by following which you will be able to connect VPN, below you will be able to connect to some computer. I am giving a list of the Best VPN Software for this, you can install any software according to your wish. With the help of these VPNs, you can keep your IP and location hidden.
VPN Software List
CybergGhost
Finch VPN
Nord VPN
Total VPN
ZPN Connect
Open VPN
Opera  Browser
If you use Chrome Browser on your PC, then you can also use VPN for free with Zenmate VPN or Touch VPN Chrome Extension.
And if you use Opera Browser, then you can use VPN without any software or extension. For this, you follow the simple steps given below.
You will see a sidebar in which you will see an option of VPN and in front of it, you have to go to Enable in Setting.
After this you will see a new tab in which the option of VPN will appear at the top, now you have to enable the option with VPN. Disable the option with Bypass VPN for default search engines.
Now your VPN is enabled here. You will now see VPN written on the side of the URL box of the opera browser, from where you can select the location. Here you only let the Optimal Location be selected in the location.
Friends, your VPN has now been enabled and the location has also been set, if you want to turn off the VPN, then you can disable / enable VPN by going to these settings.
How to run vpn in Mobilephone
If you want to use a VPN on your phone, then you can easily increase your mobile phone security by downloading VPN apps. You will find many VPN apps on the play store, with the help of which you can use VPN for free.
Here below I have given a list of the best VPN apps, out of which you can download any app and use VPN. But my personal choice among these is Turbo VPN because it is free and in this, you can select the location according to you.
Android के लिए VPN Apps की लिस्ट
Step 1 – To use any VPN application, you have to first install any VPN application from the above list.
Step 2 – After that, you have to open that VPN application and you have to choose according to which country you want to set up VPN.
Step 3 – Now you just have to connect, whether your VPN is connected correctly or not, you will see the icon in the notification panel of your Smartphone. If the icon does not appear, then your VPN is not connected correctly yet.
Note – You should not use VPN to do any illegal activities. Through this post, our purpose is only to provide information about VPN, other than that we do not have any purpose.
Benefits of using a VPN
There are many advantages of using VPN, on the other hand, there are some disadvantages too, but here I will tell you some advantages of using VPN.
Private Connection Access – Nowadays everyone has their own internet connection, but sometimes we need to access the Internet from another Wifi, in such a situation, we need a VPN to secure our data, so that our There is no Privacy Leak, it is also a good benefit that we get from VPN.
Strong Security – Before using the Internet, we always have to take care of privacy because there is a risk of a data leak at every step on the Internet, so if you use any good VPN, then the risk of your data being leaked is low. At the same time, no one even knows what you are accessing through the Internet.
Free Subscription– Many times friends, it happens that we want a movie or any such streaming content which is not free, in whichever country it is available for free, we can connect all those things by connecting VPN of that country. Being able to access and download for free is also the biggest advantage of a VPN.
Hide Real Identity – Whenever we use the Internet, then such possibilities become with us that we have to hide our real identity, in such a situation, if we have a VPN, then we can easily hide our identity and IP.
Disadvantages of using VPN
VPN Paid Services – There are many VPN applications that provide service for free, which we are late in using, but we are not able to get some features in them, in such a situation, we have to use their paid service, which is one of the VPNs. There is a negative option.
Internet Speed ​​- VPN does not slow down such internet speed, but sometimes if the location is not correct then we have to face slow internet speed due to the use of VPN, which hinders our work.
Trusted VPN – To use VPN, we always have to use some software, but whether we can trust all types of VPN or not, this factor also comes out in front, so we should use any VPN. Before bringing it in, the trust factor of that app must be known.
Setting Problem – Using a VPN is usually easy, but there is some VPN software that has a lot of options in setting, making it a bit difficult to set up a VPN, this is also a negative point of a VPN.
Conclusion
So this was our article of today in which I gave you information about what is Vpn and how is VPN used and what are its advantages and what it are disadvantages. If you liked this information, then do share it. And if you have any questions, insistence on this article, then you can ask by comment.
FAQ-
Q.1 . VPN FULL FORM?
ANS: Virtual Private Network
Q.2. VPN is free service?
ANS: not exactly, Paid Available